Highland Storm - Directed by Peter Gallant
Doors open at 7:00 pm, show starts at 7:30 pm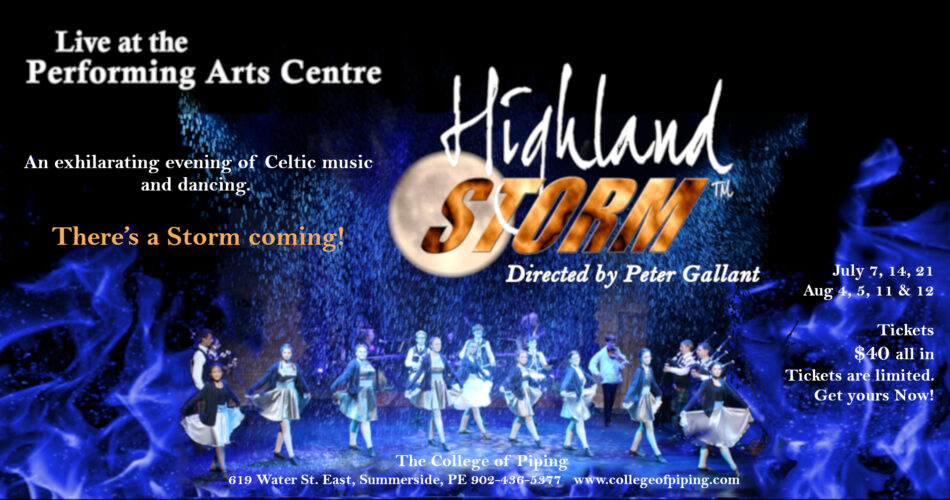 Highland Storm – an exhilarating evening of Celtic music and dance that will captivate the audience with stunning displays of the Highland and step dancers and breathtaking sounds from the pipes and drums.  Combine that with the haunting melodies of beautiful traditional songs and the consuming fire of the fiddle, this will be a moving authentic experience.
The audience will be transported to a pivotal time in PEI over 250 years ago, when 3 ships; the Annabella, the Edinburgh and the Falmouth, arrived having carried families from their homeland in Scotland to a new land with little more than the clothes on their backs. As well, with an added scene this year, we celebrate the 250th anniversary of the Alexander transporting the Glenaladale Settlers to PEI.
Imagine arriving on these shores in the bleak autumn, having to clear land, cut wood and build a home in order to survive the unforgiving winters of PEI. What would that first year be like?
The story of the Scots arriving on PEI will be performed by The College of Piping's instructors and students and featuring fiddler Gilbert Arsenault and vocalist Christine Gallant. Highland Storm is directed by Peter Gallant.
Prepare to sit tight and hold on…there's a Storm coming!
$40 All in
Call 902-436-5377
619 Water St. East, Summerside, PE
Show Dates:
Thursday, July 7
Thursday, July 14
Thursday, July 21
Thursday, August 4
Friday, August 5
Thursday, August 11
Friday, August 12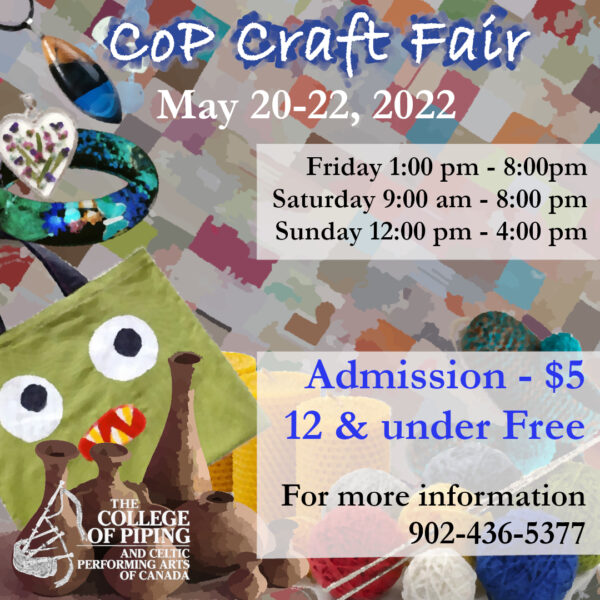 CoP Craft Fair - May 20 - 22, 2022
The College of Piping and Celtic Performing Arts Centre is excited to be having its first craft fair May 20 – 22, 2022.
Admission is $5, 12 & under is free.
Friday 1:00 pm – 8:00 pm
Saturday 9:00 am – 8:00 pm
Sunday 12:00pm – 4:00 pm
All spots are full, but we are taking vendors information for a cancelation list.  The space is 6'x6′, $75 for the first space and $125 if you would like 2 spaces. Each space comes with a 2'x6′ table and 2 chairs. Wall space and power are available upon request.
If you are interested in being added to the cancelation list, please fill out the online form.
If you have more questions call 902-436-5377 or email rachel.kitts@collegeofpiping.com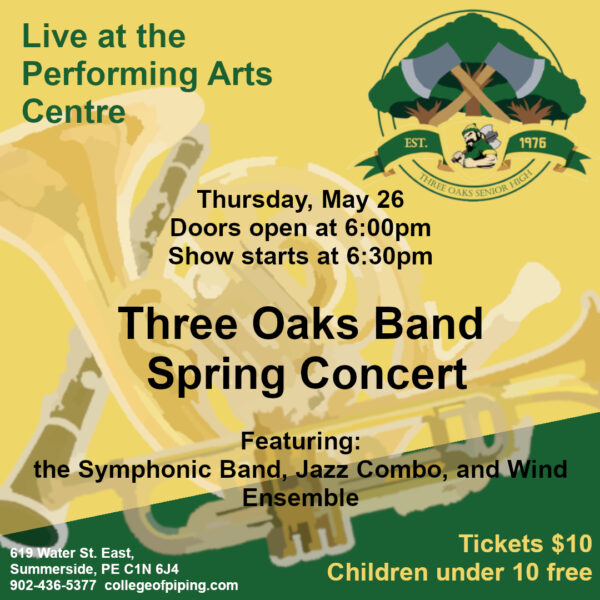 Three Oaks Band Spring Concert - Thursday, May 26
Doors open at 6:00pm and show starts at 6:30pm
Three Oaks Band Spring Concert
Featuring the Symphonic Band, Jazz Combo, and Wind Ensemble
 On Thursday, May 26th  join the Three Oaks Senior High Instrumental Music students as we celebrate our first live performance for a public audience since early March 2020!  The evening will featuring several selections by each of our two concert bands directed by Krista Bryson (TOSH Music Director), in addition to our new Jazz Combo, directed by Mark Cerisano.  Each concert band will perform a variety of selections that is sure to entertain!  In addition to family and friends of TOSH Band members, this show offers a wonderful opportunity for anyone in our community to celebrate the return to live concerts for our students who have endured many restrictions over the past few years and is a family friendly event. The TOSH Music Department hopes to see you there and appreciates your support!
Call 902-436-5377
619 Water St. East, Summerside, PE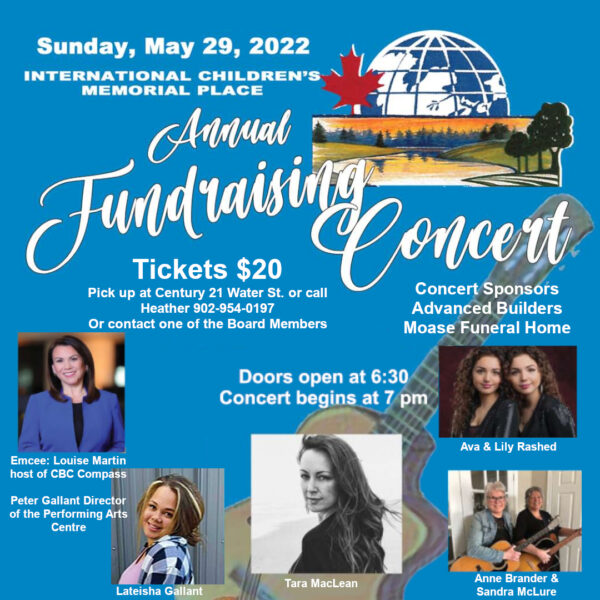 International Children's Memorial Place - Annual Fundraising Concert
Sunday, May 29, 2022
Doors open at 6:30pm, show starts at 7:00pm
Sunday, May 29, 2022, the International Children's Memorial Place is having it's Annual Fundraising Concert.
Emcee is Louse Martin, host of CBC Compass.
Performances by Tara MacLean, Ava & Lily Rashed, Anne Brander & Sandra McLure and Lateisha Gallant.
Sponsored by Advanced Builders and Moase Funeral Home
Tickets $20
Tickets can be purchased at Century 21 Water St, call Heather at 902-954-0197 or contact one of the Board Members.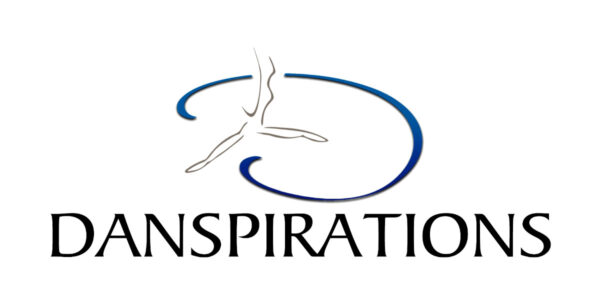 Danspirations Showcase 2022 "Swing is the Thing"
June 4, 2022
4:00 pm and 7:00 pm
Danspirations students of 2022 are proud to present "Swing is the Thing". Enjoy the variety of excellent dance talent our community has to offer!
Tickets $17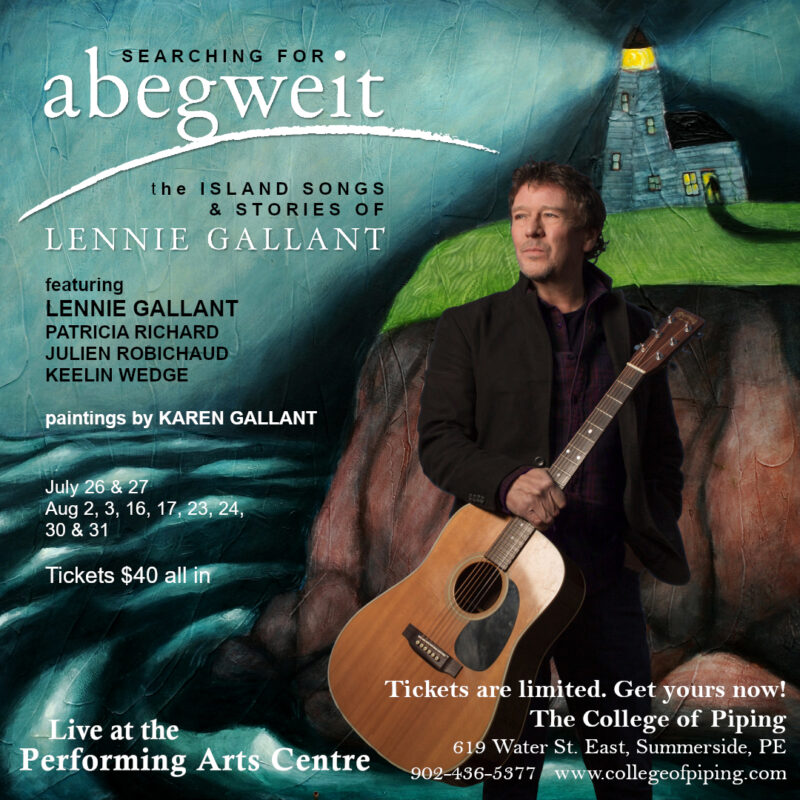 SEARCHING FOR ABEGWEIT: The Island songs & stories of Lennie Gallant
Doors open at 7:00 pm, show starts at 7:30 pm
SEARCHING FOR ABEGWEIT: The Island Songs & Stories of Lennie Gallant, features his original works about Prince Edward Island (Abegweit),written over the span of his extensive 14 album career. Often referred to as Gallant's "Love letter to the Island", the multimedia show also features projected films and hundreds of unique paintings by his celebrated artist sister, Karen Gallant, and explores magnificent themes and legends of which only Abegweit could boast .
The show is by times hilariously funny, extremely poignant, informative, rocking and reeling, and offers an exciting musical window into the island's past, present, and future.
With over 180 performances and a sold out Eastern Canadian tour under its belt, SEARCHING FOR ABEGWEIT, is considered a major 'MUST SEE' show that has had fans from all over the continent returning for multiple viewings. A much celebrated songwriter and consummate performer, Gallant is remounting this legendary show this summer with his current stellar band members, Patricia Richard, Keelin Wedge and Julien Robichaud. Mi'kmaq singer Hubert Francis also joins the band on screen for the powerful title song, Searching For Abegweit.
This multimedia production is a unique hit Island experience NOT to be missed!
Tickets $40 all in
Follow the Celtic Performing Arts Centre