Highland Storm - Directed by Peter Gallant
Doors open at 7:00 pm, show starts at 7:30 pm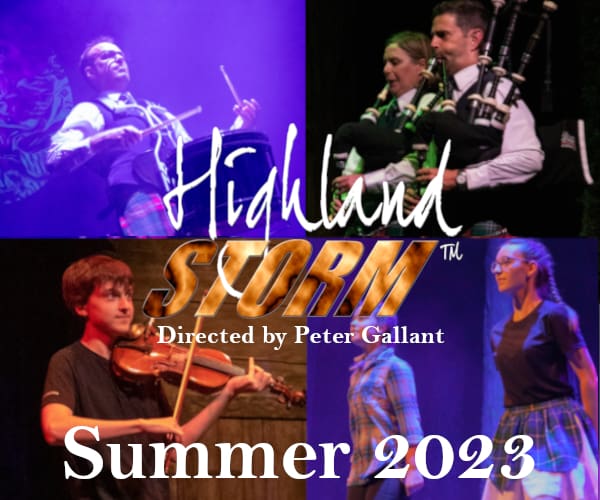 Highland Storm – an exhilarating evening of Celtic music and dance that will captivate the audience with stunning displays of the Highland and step dancers and breathtaking sounds from the pipes and drums.  Combine that with the haunting melodies of beautiful traditional songs and the consuming fire of the fiddle, this will be a moving authentic experience.
The audience will be transported to a pivotal time in PEI over 250 years ago, when 3 ships; the Annabella, the Edinburgh and the Falmouth, arrived having carried families from their homeland in Scotland to a new land with little more than the clothes on their backs.
Imagine arriving on these shores in the bleak autumn, having to clear land, cut wood and build a home in order to survive the unforgiving winters of PEI. What would that first year be like?
The story of the Scots arriving on PEI will be performed by The College of Piping's instructors and students and featuring fiddler Gilbert Arsenault and vocalist Christine Gallant. Highland Storm is directed by Peter Gallant.
Prepare to sit tight and hold on…there's a Storm coming!
$40 All in
Call 902-436-5377
619 Water St. East, Summerside, PE
Show Dates:
Thursday, July 13
Thursday, July 20
Friday, July 21
Thursday, July 27
Thursday, August 3
Friday, August 4
Saturday, August 5
The College of Piping Year End Recital
June 11, 2023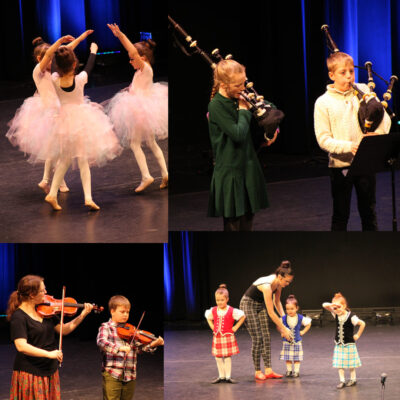 The College of Piping Year End Recital
Join us in celebrating all of the hard work our students have put in the 2022 – 2023 school year. The students will showcase all of their talents in the End of Year Recital.
2:00 show, doors open at 1:00pm
Tickets can be purchased online or through the Box Office after May 29, presale begins May 15.
General admission
The College of Piping Year End Recital
Elton Songs - The Elton John Experience
June 25, 2023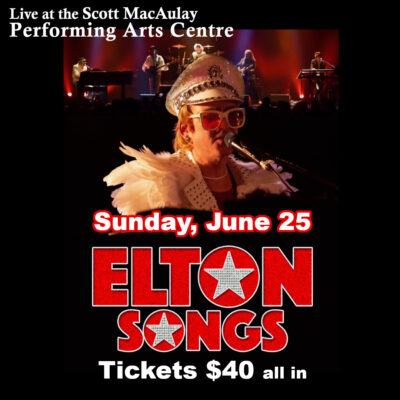 Elton Songs - The Elton John Experience
"Elton Songs" is a must-see show and experience that leaves audiences with long-lasting memories of a fabulous evening of entertainment. Like stepping into a time machine, this spectacular concert accurately recreates the visuals and sounds of Sir Elton John.
An event that features an incredible vocal impersonation of Elton John, performed sporting glittering iconic authentic costumes.
A performance that that delivers the greatest Elton John hit songs of all-time.
Doors open at 7:00pm, show starts at 7:30pm
Elton Songs - The Elton John Experience
Tickets available through the box office and online.
That's The Island For Ya Deer! Featuring Mike Pendergast and Shane Pendergast
July 8, 15, 22 & 29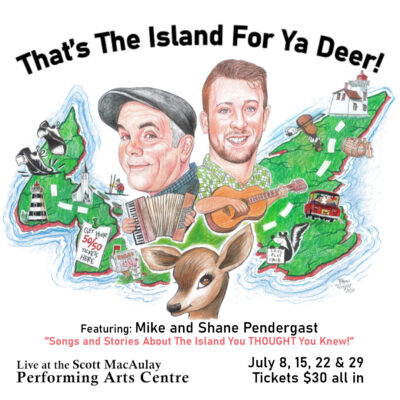 That's The Island For Ya Deer! Featuring Mike Pendergast and Shane Pendergast
The PEI you THOUGHT you knew with the songs behind the stories and the stories behind the songs. An evening full of musical curves and detours along the Island way.

So, sit back and enjoy the view with PEI legendary entertainer, storyteller and musician, Mike Pendergast and one of Atlantic Canada's finest young folk troubadours, Shane Pendergast. This is ESSENTIAL PEI content at its best!
Doors open at 7:00pm and show starts at 7:30pm
That's The Island For Ya Deer! Featuring Mike Pendergast and Shane Pendergast
Fire In The Kitchen
July 17, 24, 31 & Aug 7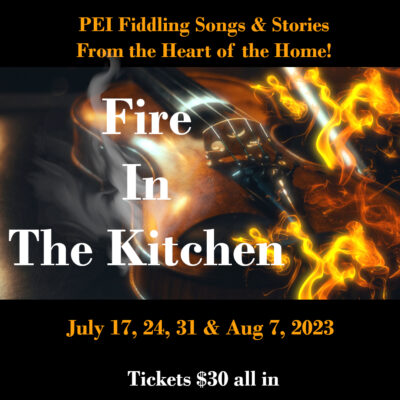 Fire In The Kitchen
A magical evening of PEI fiddling, songs and stories from the heart of the home – THE KITCHEN! This fiery party will feature a different PEI fiddle master on each show along with a guest singer/songwriter and storyteller.
Rounding out the cast is our stellar house band: Roland Beaulieu (guitar), Tanya Bernard (keyboard), Deryl Gallant (Bass), Max Gallant (Drums) and 2 guest step dancers each night. Destined to be THE PEI Kitchen Party!
July 17 – Keelin Wedge & Christine Cameron
July 24 – Louise Arsenault & Jonathan Arsenault
July 31 – Mark Haines
Aug 7 – Gilbert Arsenault & Christine Gallant
Doors open at 7:00pm, show starts at 7:30pm
Fire In The Kitchen
Tickets available through the box office and online.
Rick Sparkes & The Enablers
August 18, 2023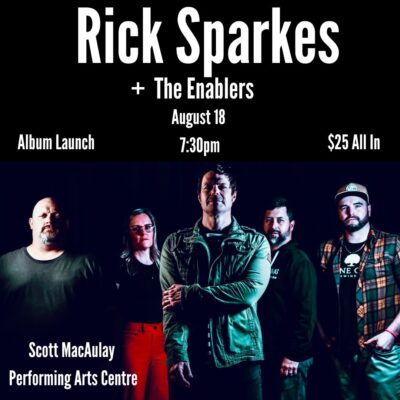 Rick Sparkes & The Enablers
Rick Sparkes + The Enablers are an award-winning folk rock band from Prince Edward Island, consisting of members Danny Drouin, Brent Chaisson, Ruth Ann MacMurdo, and Chris Daigle. Since forming in 2017, Rick and The Enablers have released three full-length albums. Their debut release, 2018's "The Trouble with the Light," earned Rick multiple award nominations, including Music PEI's SOCAN Songwriter of the Year in 2020. Their 2021 sophomore album, "Pleasure in the Pathless Woods," not only won the 2022 Music PEI Award for Group Recording of the Year, it was nominated for a 2022 East Coast Music Award and received nation-wide radio recognition through the campus and community !
They have played all across the Maritimes including the Living Roots Festival, the Tay Creek Folk Festival, and the Harvest Jazz & Blues Festival. On May 5, 2023, Rick and The Enablers released their third album, "Picture Yourself in a Riot." Come join Rick & co. as they celebrate its release at the Scott MacAulay Performing Arts Centre with their official album launch – a show that is not to be missed. Vinyls, CDs, along with some other pretty cool merch, will be available, as well. Kicking things off for the night will be special guests: members of the Three Oaks Senior High School R&B Band!
Rick Sparks & The Enablers
After Hours Band
August 25, 2023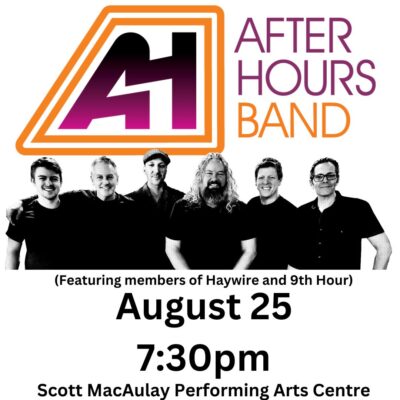 After Hours Band
Introducing the After Hours Band, a six-member cover band that takes you on a musical journey through the 1980s, 90s and beyond. This group of musicians are no strangers to the Island music scene, with years of experience (with members from PEI Bands Ninth Hour and Haywire!) and a passion for delivering great performances.
After Hours Band consists of Dean MacKinnon, David Rashed, Ron Atkinson, Matt Anderson, Will MacKinnon and Kenny Vail. They deliver a guitar/keyboard driven sound that comes together to create a full rock experience.
When you attend a show by the After Hours Band, you'll be treated to a night filled with hits from some of the biggest names in music. Expect to hear everything from classic 80s pop to 90s rock, with a touch of modern favorites thrown in for good measure. Whether you're a fan of Michael Jackson, U2, or even Bruno Mars, the After Hours Band is sure to have something for you! With their exceptional musicianship and dynamic stage presence, this band is guaranteed to keep the crowd dancing all night long.
Whether you're a music lover, a nostalgic 80s or 90s fan, or just looking for a great night out, the After Hours Band is the perfect choice. Get ready to sing along, dance, and have a rockin' time!
Stairway to Zepplin - Celebrating the music of Led Zepplin
September 22 & 23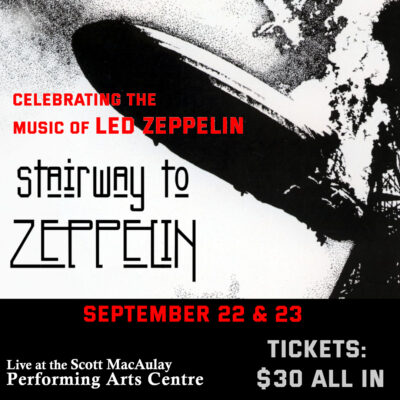 Stairway to Zepplin - Celebrating the music of Led Zepplin
Arguably the most prominent force in rock history, Led Zeppelin's massive catalogue of classic songs still rules!
The Scott MacAulay Performing Arts Centre proudly presents the long awaited tribute: Stairway To Zeppelin, a 2-hour live spectacular of the Essential Led Zeppelin Music for the very first time on PEI presented by an elite group of 7 Island musicians.
Expect to hear and see ALL the best of Zeppelin tunes including Rock and Roll, Immigrant Song, Black Dog, Whole Lotta Love live, Dazed and Confused, Moby Dick, The Ocean, Stairway To Heaven and so much more in this multimedia show.
We are SO EXCITED about this event that we are presenting the show twice: Friday September 22 and Saturday September 23.
Led Zeppelin has crossed so many generations . So, HEY, bring the kids and Ramble On!
Don't miss it – It's ZEPPELIN!
Introducing "Achilles Last Band":
Vocals:
Alyssa Harper
Carrie MacLellan
Guitars:
Danny MacNevin
Corey Buchanan
Bass:
Stéphane Bouchard
Scott Cleary
Drums
Maxwell Gallant
Doors open at 7:00pm and show starts at 7:30pm
Stairway to Zepplin - Celebrating the music of Led Zepplin
VALDY
September 28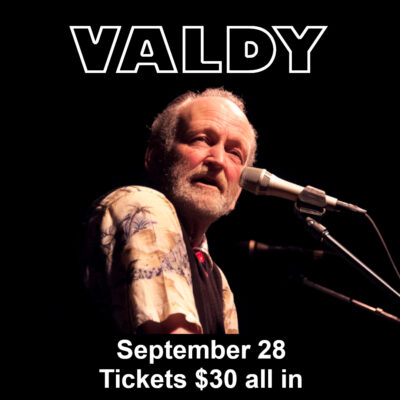 VALDY
Valdy, born Valdemar Horsdal in Ottawa, Canada has been part of the fabric of Canadian pop and folk music for almost 40 years. A man with a thousand friends, from Newfoundland to Vancouver Island to Texas to New Zealand, he's a singer, guitarist and songwriter who catches the small but telling moments that make up life. Remembered for Play Me a Rock and Roll Song, his bitter-sweet memory of finding himself, a relaxed and amiable story-teller, facing a rambunctious audience at the Aldergrove Rock Festival circa 1968, Valdy has sold almost half a million copies of his 13 albums, has two Juno Awards (Folk Singer of the Year and Folk Entertainer of the Year), a total of seven Juno nominations and four Gold albums to his credit. Valdy's recent CDs include 'Contenders', a collaboration with friend and fellow singer/songwriter, Gary Fjellgaard, with whom he has an absolute blast touring, and a solo release, "Viva Valdy: Live at Last", a two-CD package, one live, one studio, with a total of 25 tunes, and a lyric booklet. One of Canada's most influential songwriters, Valdy's composition A Good Song was recorded under the title Just a Man by the venerable Quincy Jones ( he sang lead on the recording!). Play Me a Rock and Roll Song has been recorded by a few artists, including John Kay of Steppenwolf. Along the way, Valdy has taken his music to a dozen different countries, from Denmark to Australia and been an often-invited performer at the prestigious Kerrville Festival in Texas. His past television appearances include Canada AM and Open Mike with Mike Bullard. Valdy has also been a panelist on Front Page Challenge, and played a lead role in an episode of The Beachcombers original series.
The Return of Supernaut! A Tribute to Black Sabbath
October 28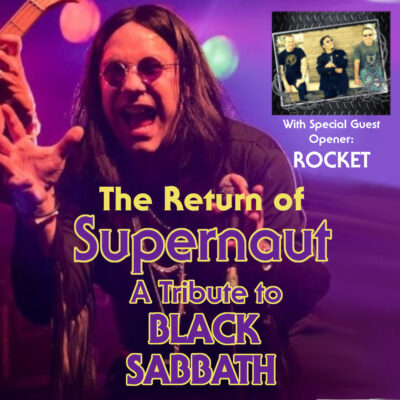 The Return of Supernaut! A Tribute to Black Sabbath
After last year's completely SOLD OUT SHOW, SUPERNAUT is BACK with another Black Sabbath tribute!
The band hails from Summerside P.E.I. area with Scott Cleary on vocals, Aron Scott on guitar, Stéphane Bouchard on bass and Yves Arsenault on drums. Scott is an OZZY OSBOURNE impersonator who has been performing Black Sabbath and OZZY solo material based out of Toronto then the Maritimes since the 1990's. Aron, Stéphane and Yves are talented instrumentalists with decades of experience playing in a multitude of bands over the years and are some of the most respected and sought after musicians on Prince Edward Island. The band is committed to an exact recreation of the music of Black Sabbath while Scott performs as OZZY. SUPERNAUT's energetic live show is an entertaining trip back to the 1970's.
Doors open at 7:00pm and show starts at 7:30pm
The Return of Supernaut! A Black Sabbath Tribute